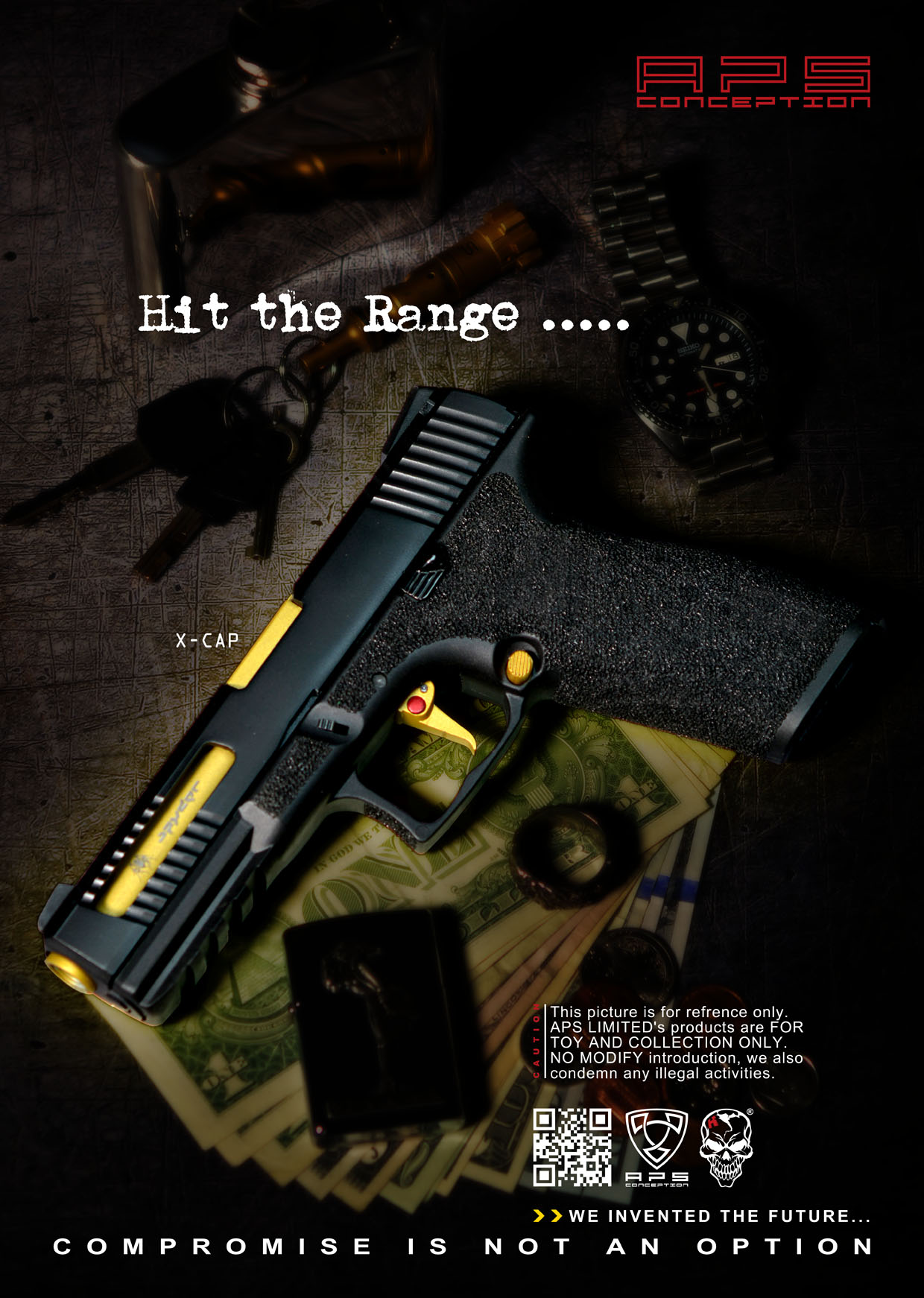 *** Fail to screw the magazine end cap properly may result in low FPS, weak blow back cycle and no slide lock when magazine is empty
Please read instruction manual or view our instruction video carefully on how to screw the magazine end cap properly.
APS new pistol X1-CAP Dual Power Pistol is now available. With the success of Dragonfly Dual Power Pistol made in 2015, APS continue to develop our dual power system and created another D-Mod pistol named ¡°SPYDER¡±.
Same as its brother ¡°Dragonfly¡±, ¡°SPYDER¡± is a dual power pistol takes both Green Gas and Co2 Mags. With over 20 years experience in making Co2 products, This pistol allow you to shoot nearly 60 rounds in one Co2 charged and nearly 50 rounds in one Green Gas charged. Impressive isn¡¯t it?
Standard SPYDER pistol comes with a slimmer stippled grip. It originally equipped with golden barrel and golden trigger. The trigger is made of high-grade alloy with short stroke design, which means every time you pull the trigger, it doesn¡¯t going through full length of travel before the trigger return to reset. Because the grip is slimmer and the slide is light weighted, with the magazine installed, this pistol weight only 750g. Amazingly, this pistol fits aftermarket Glock holster so you don¡¯t have to worry about finding a spare for it.
Features of this pistol:
Slim Pistol Grip Design
The size of the grip has been reduced. The slim grip was designed to fit all hand sizes no matter you are Asian, American or European. Volunteers were recruited during the test and the slim grip design fits them comfortably.
Advance magazine release catch
X1-CAP magazine release catch is made similar to the 1911 pistol where it can be easily uninstalled by a normal screwdriver. We modified the thumb rest position so the release catch is reachable by the thumb in an easy and friendly manner.
Glow in Dark Front and Rear Sight
X1-CAP standard comes with glow in dark front and rear sight, so you won¡¯t make yourself trouble when shooting in a dimming place.
Visible Ejection Port
The slide of the X1-CAP is trimmed so the ejection port is visible on either left or right. With slides back, empty chamber is more visible. Playing safe is extremely important in Airsoft, visible ejection port will always help.
To conclude, X1-CAP is a new pistol that inherit the advance Dual Power features of its brother Dragonfly, the slim grip design and visible ejection port are designed for shooter.   The affordable price and compatibility of aftermarket parts & accessories will make this gun unbeatable. Will it be just a new Airsoft guns or a new training weapon for profession LE officers? Time will tell.
Caliber: 6mm BB
Inner barrel size: 6.03mm
Energy Source: 1 x 12g Co2 Canister or Green Gas
Velocity: Green Gas (Average 270 FPS) / Co2 (Average 340 FPS)
Maximum Range: 60 Meters
Effective Range: 35 Meters
Fire Selector: Safe / Semi Auto
Magazine Capacity : 25 + 1 Rounds
Length 18.4cm(L)
Weight: 0.78 kg