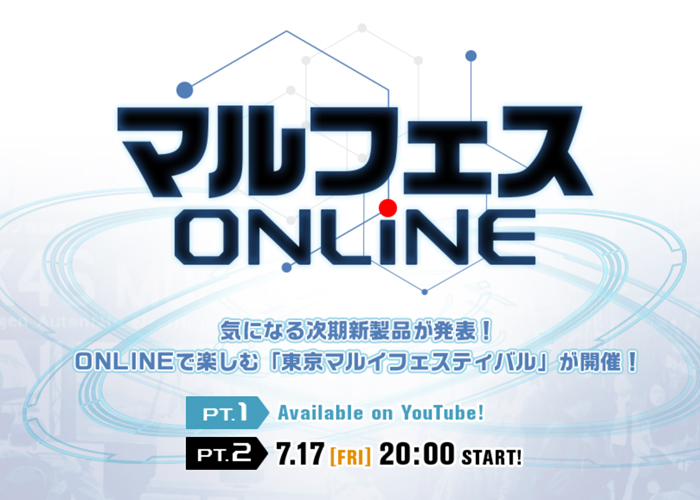 After a week of speculating with many answering right answers to one or two of the upcoming products from Tokyo Marui, the day has finally arrived when the curtains will be finally pulled to show what these products are. In part 2 of MARU-FES Online, Deca and Irodori Mayoi, who play the role as the Marudeca Advertising/PR crew will be presenting what these products are.
The MARU-FES Online event is the answer of Tokyo Marui for their product reveals as traditionally they do these during three events each year: Shizuoka Hobby Show, All Japan Model & Hobby Show, and the Tokyo Marui Festival. But with the ongoing Covid-19 Pandemic, the two events have been cancelled, whilst the Tokyo Marui Festival which is usually held in November, there is no information if it is pushing through.
MARU-FES Online Part 2 will start at 2000H JST (GMT+9) which is 1200H BST (GMT+1) for those in the UK, 0700H EDT New York (GMT-4) and 0400H PDT Los Angeles (GMT-7). There will be three portions for this event which is basically the same format as Part 1
Marudeca Advertising Headquarters [Business trip version] – Deca and Irodori Mayoi will be taking about the new products that were shown in the teaser video.
New Product Corner – The portion on new generation products that have been announced shown in detail.
Shooting Corner – From their secret shooting range, they will demonstrate the power, performance and usability of the revealed products. Other products might be shown as well in this portion.
FIRST PORTION CONCLUDED
Products revealed as we watch:
Tokyo Marui AKM GBB
Tokyo Marui MK18 Mod. 1 GBB
Tokyo Marui P320 GBB Pistol
(We're 90% accurate in our prediction)
SECOND PORTION CONCLUDED
THIRD PORTION CONCLUDED
Full details of the newly announced Tokyo Marui Gas Blowbacks will be posted tomorrow as the Weekend feature. Stay tuned!